Whether it's the perfect popcorn packaging or ice cream tubs that delight your customers, all brands want to have the right impact with their packaging. That means figuring out how to design and manufacture packaging that resonates with your target audience.
Product packaging doesn't just make the items you sell look great, it also helps you to build a connection with your customers. The more time and effort you put into an eye-catching design, the more you're bound to reap the benefits.
Here at PureCo, we specialise in custom made packaging for everything from hot dogs, too cold drinks cups. To help you make the right choice with your products, we thought we'd share our tips on how to make your packaging truly perfect.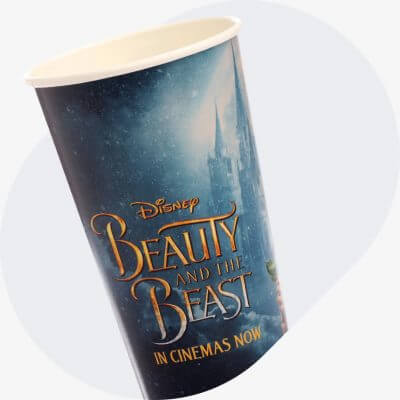 Step 1: Know Your Branding Strategy
Your product packaging should fit with the identity you're trying to create for your company. For instance, if you want customers to perceive your movie theatre as a fun family-friendly place, your popcorn packaging might be colourful and kid-friendly. On the other hand, if you're hoping to establish a luxurious image, you might choose ice cream cartons made from textured materials and dipped in colours like purple and gold.
Before you start to consider packaging options, take the time to think about how your packaging can contribute to your overarching brand identity.
This means looking at:
Brand colours
Messaging and tone of voice
Logos and taglines
Step 2: Let the Product Inspire the Design
When it comes to product packaging, it's important to remember that the item you're selling is always the star of the show. When we manufacture profitable packaging for our clients here at Pureco, we always make sure it displays the item within perfectly. After all, you want your popcorn cartons to get your customers' mouths watering, just as you want your cold drinks cups to leave them feeling refreshed.
Consider implementing unique colours and textures that add to the experience of the product itself. For instance, a cold drink cup might use refreshing colours like green and blue, and come with a sweat-proof coating on the outside.
Also Read: Better Research Leads to Better Packaging Design
Step 3: Make Sure your Packaging is Practical
While great packaging design needs to be attractive, it's important not to overlook practicality. For instance, just as your cold drinks cups need to be protected from condensation, hot beverages should come with an extra layer of temperature-proofing, to protect client's fingers. Ice cream tubs will also need to withstand time in a freezer, so it's important to make sure the packaging is durable.
Try to find a good balance between functionality, and form. For instance, ask yourself:
Do I need any special coatings for condensation or heat?
Is my packaging durable enough?
Are the tubs and cartons I offer easy to hold and use? (Not too big or a strange shape)
Can I offer a range of sizes?
Step 4: Make it Attention-Grabbing
Amazing product packaging can capture the attention of your target market. Here at PureCo China, we design and manufacture profitable packaging in a range of styles to suit any taste. For instance, if you know that the biggest customers for your ice cream tubs are children, then you might design your packaging in a smaller size so that each child gets the right portion.
Bright colours are also a great way to attract kids, whereas adults might be more attracted to sophisticated designs. Combine the right colours and imagery with reliable and leak-proof materials, and you've got the perfect packaging experience.
Step 5: Trigger Customer Emotions
Finally, remember that your packaging is more than just a vehicle for transporting products. It's something that helps you to connect with your audience on an emotional level. A fun picture or an inspiring slogan can be enough to make sure that your customer continues to remember you, long after they've thrown your packaging away.
Think about how your colours, marketing, and imagery can all have an impact on the way that your clients feel. To find out more about creating your packaging, contact us directly at +86-21-57382058 or jump onto our live chat feature (bottom right-hand side of this page) and send us a message.
We look forward to speaking with you.