Want to know what are the 5 biggest mistakes when creating custom packaging?
Using the wrong specs
Choosing the wrong materials
Not testing the packaging
Not standing out in the market place
Failure to pick the right manufacturer
Product packaging is important. It's often the first component of your business your customer will see, and the thing that helps them to determine how they should perceive your brand. If your custom packaging looks outdated, low in quality, or unprofessional, then your target market might think twice about doing business with you.
To help ensure that your products are packaged in a way that helps them to move faster off retail shelves, we've put together a list of the mistakes you need to avoid in your next design session.
1.     Failure to Test Your Packaging
If you've ever been unlucky enough to buy a product and discover that the contents within is broken or damaged, then you'll know how important it is for companies to test the durability and strength of their packaging in advance. Your custom packaging isn't just there to attract buyers and look pretty, it's also intended to protect your products too. Make sure that you thoroughly test your packaging's ability to keep the items you're selling in peak condition before you start shipping.


2.     A Design that Doesn't Resonate
One of the biggest mistakes that companies make is that they create packaging that would appeal to them, rather than carefully designing to the suit the preferences of their customers. While there's nothing wrong with wanting to like your custom packaging, it's important to remember who you're serving at the end of the day. Before you start designing anything or speaking to your packaging manufacturer, make sure you research your target audience. The more you know about their expectations and ideals, the more you'll be able to create packaging that will instantly catch their eye.
Also Read: 8 Packaging Ideas for Popcorn
3.     Using Old and Outdated Packaging
After you've spend weeks or months finding a design that works for you and your company, it's tempting to stick with that packaging for as long as possible. Unfortunately, if your competitors are constantly upgrading with new and improved solutions, this could mean that you end up looking boring or outdated. Today's customers are attracted to the latest, most exciting thing on the shelf. Sometimes, this means that you'll have to commit to regularly updating your packaging if you want to stay ahead of the competition. Play with new concepts, and make sure that you stay abreast of the current trends in your marketplace with plenty of industry research.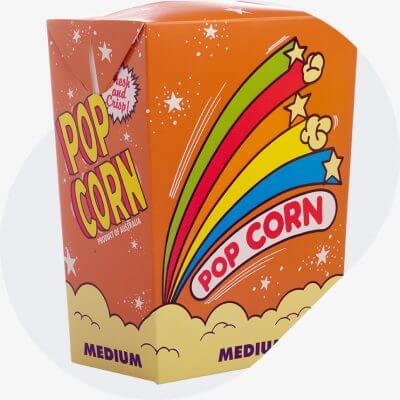 4.     Choosing the Wrong Materials in Your Custom Packaging
As mentioned before, the packaging you create doesn't just need to look good – it also needs to be functional and practical too. Unfortunately, a lot of brands make the mistake of using the most popular, or least expensive material, instead of the one that's right for their product and customer. For instance, a package of family-sized food might be overlooked by consumers if they know that the box or packet would be difficult to reseal. Ask yourself what your clients would want from your packaging, then evaluate your design to see whether you're meeting their expectations.
5.     Using the Wrong Specs
Finally, remember that even if you're working with the world's best packaging manufacturer, they can only do so much without the right sizes and specs for your chosen product. With that in mind, when you're creating your design, make sure that you double-check exactly what you need to hold your products as securely as possible. Just as a package that's too big can be a waste of money, and a disappointment to your customers, packaging that is too small is almost completely useless.
To find out more about creating custom made take away packaging feel free to contact as directly at 86-21-57382058