Looking for a way to make your promotional marketing campaigns extra cool? Ice cream tubs can add a new product to your hospitality offering while giving you a great source of promotional real estate. During the summer months when people are gradually stepping away from their daily coffee and looking for a way to cool down, ice cream is the ultimate treat for the whole family.
Here at Pureco China, we specialise in creating custom-made food packaging solutions to suit your brand strategy. Whether you're looking for mini ice cream tubs to offer as an after-lunch special, or you want to branch out with a range of different styles and sizes, Pureco China offers a complete catalogue of delicious options.

Who Can Benefit from Mini Ice Cream Tubs?
If you've been trying to think of a new way to add profit to your revenue stream, it's hard to go wrong with ice cream. Whether you add it to your menu as a seasonal treat, or you decide to invest in frozen treats all year round, ice cream tubs ensure that you have a way to appeal to customers of every age. In fact, investing in these food packaging solutions could make it easier for you to build your brand-reputation as a family-friendly organisation.
Ice-cream tubs are great for:
Cinemas
Cafes
Take-away restaurants
Theatres
Amusement arcades
And countless other food and entertainment-focused businesses. What's more, with Pureco China, you can order your tubs to come in a range of sizes, from 4oz for just a small taster, to 32oz for those searching for family-sized delight.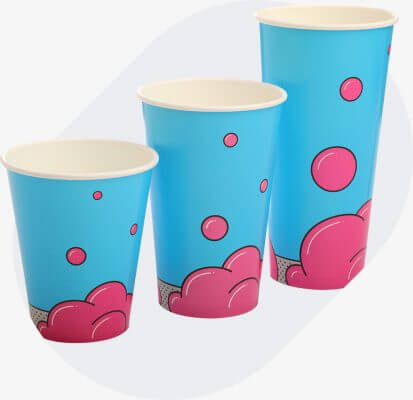 The Promotional Advantages of Ice Cream Tubs
From a promotional and marketing perspective, tubs also come with plenty of space for you to show off your unique designs, logos, and brand messaging. You can even print social media details and QR codes on your tubs to get more engagement from your target audience during special promotions.
Remember, because your tubs can go with your audience members out into the world, they can share your logo and messaging with people from your local area on your behalf. In other words, your promotional tubs don't just give you another source of profit; they give you an additional avenue for advertising too!
Since our biodegradable ice cream cups are recyclable, renewable, and available with custom printing patterns, you can show the world your image without having to worry about your impact on the environment.
Making the Most of Custom Ice Cream Tubs
Whether you've been serving ice cream for a while and you want to make the upgrade from a limited selection of sizes and a boring design, or you're just stepping into the world of frozen treats, the right tubs could be the perfect way to boost your brand presence. Remember, your ice cream tubs can also act as frozen-yogurt containers, and candy cups too in a pinch!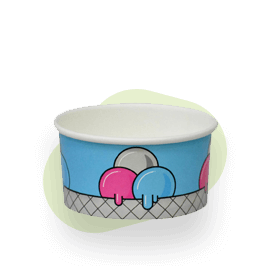 Here at Pureco China, we offer versatile paper cups either in plain packaging or with custom designs printed using flexographic technology. Our state-of-the-art design process means that you get incredible smudge-free artwork every time, perfect for making a lasting impression on your audience. Your ice cream might melt, but with Pureco packaging, your brand stays strong – no matter the season.
Ready to find out more about Pureco? Contact us directly at +86-21-57382058 or jump onto our live chat feature (bottom right-hand side of this page) and send us a message.
We look forward speaking to you!